Cathedral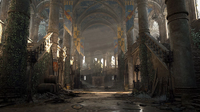 Cathedral is one of the Maps in the game For Honor.
Lore
These ruined structures point to long-lost rituals and a spirituality that no longer seems to exist. A place of peace and worship has become an ideal battlefield.
The design of these structures is clearly influenced by the Knights, and the land surrounding the cathedral is as deadly as the warriors fighting for it.
Modes
See also