For Honor is a game being developed by Ubisoft. For Honor is set to be released on February 14, 2017 for the PS4, Xbox One and PC.
About
For Honor is a competitive third-person melee fighting game mixing speed, strategy, and team play with visceral close range combat in multiplayer action.
Experience the chaos, fury, and brutality of battle where you and your friends cut a bloody trail of carnage as brutal Vikings, deadly Knights, and cold-blooded Samurai.
Modes
Versions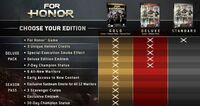 It was revealed that there will be three different release versions of the game - the Gold, Deluxe, and Standard edition.
Screenshots
Videos
External links