The Kensei is one of the Samurai Heroes.
Lore
The Kensei all aspire to be living incarnations of Bushidō, the Samurai "way of the warrior".
Masters of the martial arts, ready to die for their emperor and for their fellow Samurai, the Kensei all fight with the nodachi
That deadly blade, a longer version of the classic katana, is used to cleave their enemies in a few elegant and powerful strikes.
They strive for perfection, never expecting to reach it
Story campaign
The Kensei, Ayu, is a playable character as well as an NPC when playing as the Orochi in the Samuai chapters. Ayu is the Daimyo of the Orochi, and his/her allies, Momiji the Nobushi, and Okuma, the Shugoki.
In Ayu's mission, she is pitted against the other Daimyo in the Myre by Appollion. She manages to kill off all of them, thus earning her the right to challenge Sejuro, the Orochi who took the Emperor's place after his death at the hands of the Blackstone Legion. Two of the opposing Daimyo are also Kensei.
Emotes
Feats
| Icon | Name | Description |
| --- | --- | --- |
| | Arrow Storm | Aerial Attack that deals medium Damage in multiple areas |
| | Body Count | Killing soldier grants you health and stamina |
| | Chilling Stare | Nearby enemies have lower Attack & defense |
| | Fast Recovery | Passive, Stamina regenerates faster |
| | Inspire | Allies deal more Damage, soldiers fight faster |
| | Iron Lungs | Passive, You can still Sprint when Out of Stamina |
| | Long Bow | Fire a long bow for moderate Damage |
| | Second Wind | Recover some of your health. |
| | Smoke Bomb | Throw a smoke bomb on the ground that breaks the lock |
| | Stalwart Banner | Nearby allies continuously regain Health |
| | Steadfast | Gain immunity from Throw attempts for a short duration |
| | Unblockable | Your Attacks are Unblockable for a short duration |
Moveset
Hero Modifiers
| Name | Description |
| --- | --- |
| Chain Starters | Helm Splitter, Swift Strike, and a Guardbreak can initiate chains. |
| Throw Into a Chain Finisher | Any Throw can be followed-up by any Chain Finisher. |
| Top Heavy Finisher Unblockable | Finish any chain with a Top Heavy for an Unblockable Attack. |
| Top Heavy Finisher Cancel | Top Heavy Finisher Startup can be canceled by: A Side Light Attack or A Side Heavy Attack for n Uninterruptible Side Heavy Finisher. |
| Zone Attack | Cancel Zone Attack after the first Attack with E(cancel attack button). |
| Renown | Earn more Bounty in 1v1 fights, by killing enemy Heroes, and getting Killing streaks to unlock your feats in a match. |
| Revenge Mode | Boosts Damage and Health. All Attacks are Uninterruptible. Parry and Throws knock enemies down. Attacks are Auto-Parried on activation. |
Moves
Name
PC Controls
PS4 Controls
Xbox One Controls
General Action
Dawn of the Steel Sun
LMB, LMB, LMB
Light Attack (x3)
Spirit of Inevitability

(Chain Attack, Unblockable)

LMB, LMB, RMB
Light Attack (x2), Heavy Attack
Form of the Dragon

(Chain Attack, Unblockable)

LMB, RMB, RMB
Light Attack, Heavy Attack (x2)
Doom of the Kensei

(Chain Attack, Unblockable)

RMB, RMB, RMB
Heavy Attack (x3)
Rushing Sweep

(Not in Guard Mode)

Shift + RMB
Spring + Heavy Attack
Helm Splitter
W + Space, LMB
Forward Move + Roll, Light Attack
Swift Strike
A or D + Space, LMB
Sidestep + Roll, Light Attack
Grasping Pounce
W + Space, MMB
Forward Move + Roll, Grab
Weapon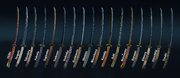 See also
Heroes